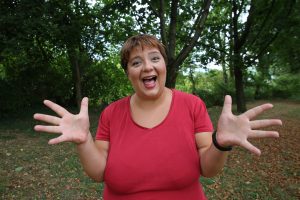 My name is Mihaela. I am a writer, but I also work as a geek whisperer, creative troublemaker and media facilitator. Starting my own business was never of dream of mine. Growing up in a family that ran a number of family-owned enterprises, I knew exactly how much work, heartache and reward owning a business entails. (Or not.)
I could say I was forced to start one by failing to find anyone who would offer me a permanent position in exchange for renting some of my many talents. But I won't. I've found that hard work and heartache are quite worth the freedom, Croatian laws and bylaws notwithstanding.
I wake up terrified every single day, just like I did the day I launched Savarakatini for the second time. (The first one failed in the most spectacular way – I tanked a business, gained a child and kept a friend.)
I also wake up eager to face the new day and to twist new ideas into a better future. For me and for all around me.
My biggest lesson? I can do this and I can do it extremely well.